I bought a body pillow from Sears. I tried the Haruka, Hinata, and Saki 7 dakimakura covers on it.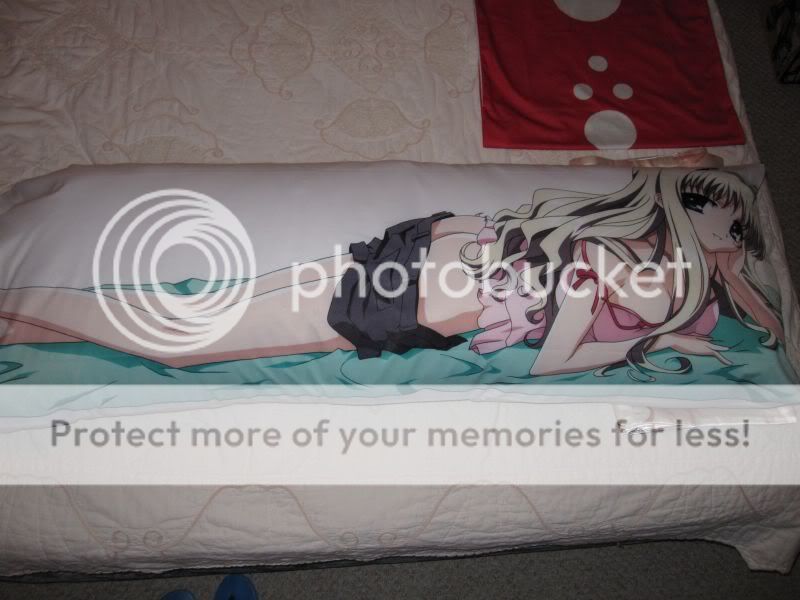 Like the one from Bed Bath & Beyond, the pillow is 20"x54" and costs $9.98. The inside is polyester fiberfill; the outer cover is 55% cotton and 45% polyester. It is supposedly machine washable. I went with Sears because the the closest BBB didn't have the $10 in stock the last time I went there plus it was farther away. I didn't have much problem putting the covers on although Saki 7 had a tight fit. The pillow was a tad too short for all of them including Hinata; it reaches down to about their ankles. Hinata seems to have the best feel followed by Haruka then Saki 7. They all look pretty good including Haruka which doesn't look as good in the photos due to the way the cover reflects light. Thanks to the pillow being slightly wider than the dakimakura specs, the cover are stretched firmly so wrinkles or folds don't stand out at all. I decided to use the Haruka cover as my first one to use since she seems to be the least durable and she's been washed too. After a few days with her, I can see the attraction of dakimakura covers. You have a life-sized image of a 2D girl staring right back at you and if you like the girl, you'll really want to hug the pillow and stuff. I'm also finding I'm really liking the Haruka cover. She's so cute and sexy and the cover feels much better than I thought it would. It's very smooth and more comfortable to hold than I thought (maybe even more than the Hinata cover). I think I can get to like this LOL. I'm going to search out for a proper sized dakimakura body for my 2nd pillow. It'll probably be a while though since these things aren't cheap.
One thing I've noticed is that I don't really visit other people's blog all that often mainly due to lack of time. Usually I'll visit a site to read the review of a certain figure or toy I'm interested in and then I usually won't come back for a long time if ever. I wonder if there are others that are similar to me in that fashion or if it's just me.
Otoboku 2 has confirmed master up so I'm looking forward to getting it in early July. I'm dissapointed Para-Sol got delayed to late July but I guess that'll give me time to enjoy Otoboku until Para-Sol ships. NicoNico Chyokuhan has confirmed that my copy of Se.kirara w/ Aya morning coffee figma will ship around the same time as Otoboku so I'll be getting them at the same time. Speaking of which I've yet to play Se.Kirara. ^^;