Got my very first oppai mouse pad yesterday. It's of Kanu Uncho from Ikki Tousen and I got it from
BBTS
(sold out).
Mouse pad in and out of box but inside blister packaging.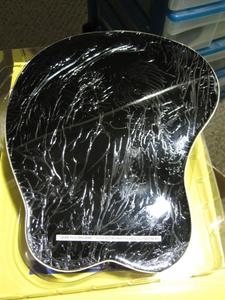 Mouse pad with blister cover removed and view of pad bottom.
The mouse pad surface is some sort of cloth-like material like underwear (polyester?) and underneath is a rubber-like material (to prevent the pad from sliding) with a protective film covering it. I'm not to big on the cloth material as it seems like it might get dirty more easily (and harder to clean) and I think may not be as comfortable as a smooth gel pad. I guess I'll find out as I use it.
I'm expecting more mouse pads in the coming weeks so expect some comparisons in the near future.